DTG IMAGE ARMOR For DARKS
Image Armor for Dark Shirts is an new formulation designed for the DTG printing industry. It is easier to apply, easier on your pretreatment machines, increases printability, and improves wash fastness of up to 50% or more than the leading pretreatments currently in the market.

Image Armor Dark Shirt formula is designed for use mainly on, obviously, dark shirts. This would include (but not limited to) black, navy, and similar colors. Some users may find that on lighter colored garments that discoloration will occur (this is mainly due to the chemicals and water used during manufacturing). Testing is recommended before any production run. However, we are also working on releasing a Light Shirt formula that resolves the discoloration on lighter colored fabrics.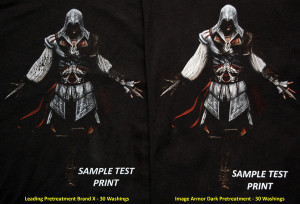 Image Armor Dark is a great improvement over the leading brands. The image to the left (click image to enlarge) was printed on a 100% cotton Hanes tagless black shirts. The reason we chose this image is it has a lot of subtle detail that fades out, which is one of the hardest printing aspects to hold during wash testing.The shirts were first pretreated with a Viperone pretreatment machine using the same exact of amount of pretreatment (18 grams for a 14″x14″ area per shirt), and heat pressed using a Hix S650 Autorelease with a pressure setting of 2. The shirts were then cured for 30 seconds until dry. The designs were then printed on a common Epson based DTG printer.
After printing, the shirts were washed together(hot/cold) and dried (hot dry) for 30 cycles. Degradation of the image started to appear after the first 5 washings in the Leading Brand X pretreatment. After 30 washing-drying cycles, it is clear there is a significant increase in wash durability of the Image Armor Dark pretreatment vs Brand X.

What This Means to You and Your Customers
The biggest issue with direct to garment printing has been the wash-ability of the garments. Many have been disappointed with the white ink wash fastness of all the direct-to-garment printers on the market. Part of this is relative to the ink sets used, however, the foundation for the entire DTG printing process is the application of the pretreatment. More specifically, the pretreatment chemistry itself. Image Armor is designed from the ground up to be the industry's most technologically advanced, best solution for improving long term washings of your images. The results speak for itself.
Better wash-fastness means your customers will be happier. And if your customers are happier, that means more sales for you in the long term (and less stress related headaches due to not knowing if your images will wash well or not).
This is our job. To help you Protect Your Image.
Benefits of Image Armor Pretreatment
Reduced Pretreatment Stains
No Crystallization of the pretreatment after pressing
Much wider margin for application – in reverse to the leading brands the more Image Armor applied actually increases washability.
Easier on your pretreating equipment. Less clogging issues.
START PROTECTING YOUR IMAGE TODAY!
More Information

| | |
| --- | --- |
| SKU | IADARK04 |
| File Uploader | No |
| Manufacturer | Other |
| Weight | 5.0000 |